Activation
Updated on September 30th, 2019
In order to trade currency pairs on the LMAX Exchange, your account should be active on derivatives trading first, and then you will have to subscribe:
the specific activation from the menu Info --> 5a. Additional Activations --> LMAX
the Execution Policy "on line" from Info> 5f. Information (General Information on strategies of execution and transmission).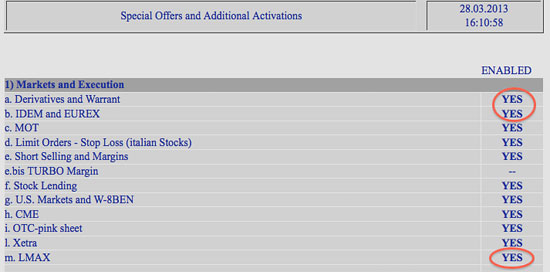 For the calculation of debits and credits and for the margins daily adjustment, Directa will apply the value of the euro exchange rate (BID/ASK) as communicated daily by LMAX Exchange, and also as found in the table available on the trading website.
Margin requirements for each available derivative instrument.
Click here for LMAX Exchange's Commissions Overview