multiBook
Last Update June 28, 2013
multiBook is a Tile through which you can either monitor prices and the order flow on a security or enter and manange an order.
multiBook is available in the Tiles drawer as a single module or as a 12 modules Tile.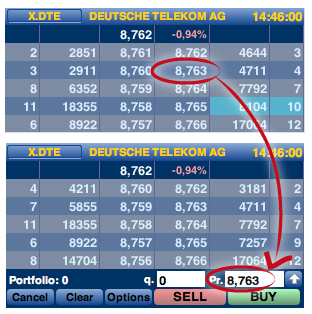 You can double click on the price chosen to enter an order from the order entry form that will appear below the multiBook.
The order entry form can be closed by clicking on the arrow in the right-hand corner.
In multiBook you can also access additional display options. Clicking on the Tile's ticker code it will allow:
to display the security chart, by entering its ticker code preceeded by an "=" before the ticker itself;
to obtain the bid/ask prices of several securities in the same multiBoook Tile you can enter up to six different ticker codes separated by a comma.
The percentage change of the securities is also indicated, as well as the last price and time.
Please Note: using this feature disable the order entry function
.