Bid/Ask, Indices and Currencies, News
Last Update June 23, 2014
Bid/Ask
This Tile corresponds to one of the three available display mode of the multiBook Tile: you can enter up to 6 ticker codes in the appropriate top left box separated by a comma, the bid ask values of those securities will be displayed in the same Tile, one for each row.
This is a very convenient and compact way to monitor market prices of more than one security at the same time.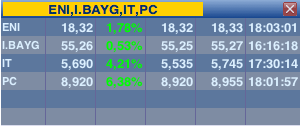 Please note: the percentage variation of the securities and the price and time of the last trade are also displayed.
Indices and Currencies
These Tiles display a list of the main market indices and currencies, in a very convenient and compact way.
They appear grouped in a single icon in the Tiles drawer; when dragged, a context menu with two options will appear, then you will be able to choose the one you want to display.
You can also open both of them as they are available as separate Tiles.
| | |
| --- | --- |
| Please note: the names of individual securities can be dragged and dropped on the desktop as you do with ticker codes: the usual context menu will appear, from which it is possible to open the Mini-Chart and the JVT chart Tiles. | |
News
The News Tile is available in Darwin and gives you the news and market news available from different news provider. Through the RSS feeds you can customize the News Tile with all the information you might need for your trading.
This dedicated Tile can be open by dragging & dropping it from the Tiles drawer or just like any other Tile choosing the option Open tile from the Main Menu.

Accessing the News option you can a enter a filter to select all the news items by topic (for example, if you enter in ECB all the available news regarding the European Central Bank will be displayed). You can also filter the displayed news by news provider.
You can also drag and drop a ticker code in the News Tile in order to display all the available news on the security associated with that ticker code.
From the Tile menu (opened right clicking on the Tile), choosing View, you can access a menu of news provider in order to select one. It is also possible to choose to show or hide the entire Publisher column, checking or unchecking the appropriate option.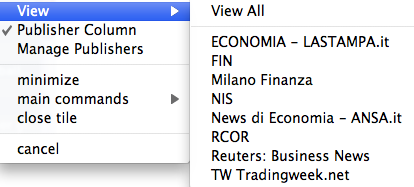 Selecting the option Manage Publishers you can access the same sub menu, which is also available under Main menu>Utilities>Preferences.
From here it is possible:
to add new providers, entering the RSS link of the publisher, or deleting one or more of those already on the list;
to set alerts for incoming news, choosing the position on your desktop where you want the alert to appear (top right, top left, etc.)
setting a sound alert when a new news item become available.