Opening a Tile
Last Update October 07, 2014
To access a list of the Tiles available in Darwin you can choose, from the Main Menu, the option Open tile ''.
You will find here all the sigle module Tiles, whereas in Darwin you have also some multiple modules Tile that can be found in the Tiles drawer.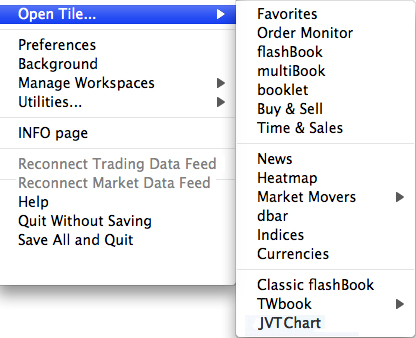 Note: Among the others, the Tile named Favourites deserves a special mention; as it corresponds to a compact flashBoard reduced to just 3 columns (securities code, percentage and volumes), which is useful for a quick consultation or in order to drag&drop the ticker codes. Please note that it can be easily transformed into the extended flashBoard via the Tile Menu.
All Tiles available in Darwin are placed in the Tiles drawer, where you will find both the single module Tiles and the Multiple modules Tiles, such as:
- a 12 Tiles multiBook;


- the full flashBoard


- a 4 modules flashBook



It is important to distinguish between the Trading Execution Tiles and the "Informative Tiles" that delivers market data feeds, indices, charts, news, etc.
We call the 7 tiles Trade Execution Tiles for they allow placement and the cancellation of orders.
The Trading Execution Tiles are:
flashBook (single module or 4 modules)
flashBoard (Favorites or full flashBoard)
order tile (Buy/Sell)
multiBook (single tile or multiBook in 12 modules)
booklet
Java chart
monitor (used only to cancel orders)