Workspaces
Last Updat June 20, 2013
Darwin allows you to to save and manage several workspaces, you can create and switch between up to of ten workspaces.
Most of the corresponding functions are available in the Workspaces drawer and under the Utilities option of the Main Menu.
It is possible to open the Workspaces drawer, in three different ways:
selecting the option Change workspaces on the main menu
clicking on the screen icon in the Main Bar
clicking on the Workspaces tab.


Once here you can perform five operations:


1) Switch from one workspaces to another.


2) Delete a workspace.


3) Rename a workspace (avoid special characters and punctuation marks).


4) Create a new empty workspace by clicking on Add Workspaces.


5) Duplicate an existing Workspaces by clicking Copy Workspaces.

From the 'Main Menu>Manage Workspaces'' menu option you can also: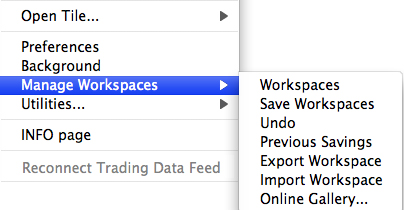 clean up a cluttered workspace: the opened tiles will be rearranged in an orderly way;
save all changes made to all workspaces without exiting the platform;
undo previous changes (on the workspaces in use);
export/import workspaces, by saving them one at a time on an external file;
choose one of the existing templates presented in the online gallery.