Entering an Order: Quick Start Guide
Last update October 07, 2014
In Darwin you can enter an order:
using alternatively 6 different Trading Tiles

flashBook
flashBoard
order entry form (Buy/Sell)
multiBook
booklet
Java chart

by accessing the order entry form on the Web trading platform.
Access to the Trading Tiles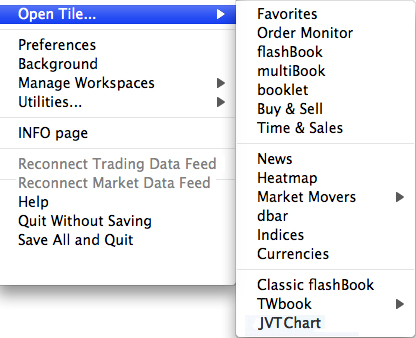 1) All the Trading Tiles mentioned above, except the multiple tiles, can be accessed from the Main Menu, choosing Open Tile.

2) The order form (Buy/Sell), the booklet and the flashBook and multiBook Tiles can also be opened from the menu that appears when a Ticker Code is dragged and dropped in an empty space of your desktop as with any other Tile, or from the option Open a new tile near this on the contest menu of an already open Tile.



3) With drag&drop you can also get a Trading Tile from the Tiles drawer, where they appear as icons, drag and drop it anywhere on your workspace.





Please note: this is the only way you can open flashBoard and multiple Tiles like flashBookand multiBook).

Access the Order Entry Form
Please remember that in Darwin limit and stop orders may be entered from booklet, order form and flashBook in a straightforward form (Stop-loss/debording, Stop ALL). To add other particular options to your order (such as OCO, Inv or Ins order) from flashbook or Multibook it is necessary to use the Order Entry Form found on the Web trading platform, which can be accessed directly in various ways:

1) choosing the appropriate option of the menu mentioned above, which appears when a Ticker Code is dragged and dropped in an empty space of your desktop



2) through the Options box of the Order Entry Form that appears under the Order Book when double-clicking the price chosen for your order



3) double-clicking the Security description from a Tiles.