flashBoard
Last update October 07, 2014
flashBoard allows you to either monitor the markets or manage your orders in one convenient place.
You can access flashBoard in two ways:
1) select the Favorites Tile from the usual Open Tile menu, this is a compact form of the flashBoard, which convenient and easily accessible, to consult all your pre-set Security lists.
favorites

The Favorites shows only three columns of the flashBoard (ticker codes, percentage, volume), but the Tile Menu, available with a right click, gives easy access to the complete flashBoard, or even to an "compact" flashBoard view, displaying with smaller columns.
2)drag and drop the Favorites tile from the Tiles drawer or, alternatively, the flashBoard Tile which is the complete platform.
flashBoard


You will find two different columns for the ticker codes and the descriptions of the securities. Please note that the ticker codes can be always be dragged with your mouse, as in any Tile, and dropped anywhere on your workspace to open a new Tile.
Clicking on the "trash" icon allows you to cancel orders. You can sort the percentage, bid, volume and contract columns clicking on the header on top of every column where small arrow is present.
As you can see in the picture below, through the Tile menu it is also possible to add or remove columns using the check mark, making changes, adding securities and, as usual, accessing the Main Menu or close the Tile.
Further customization is also currently available through the menu entry preferences.
Sort by security code
Disable automatic table size
Single portfolio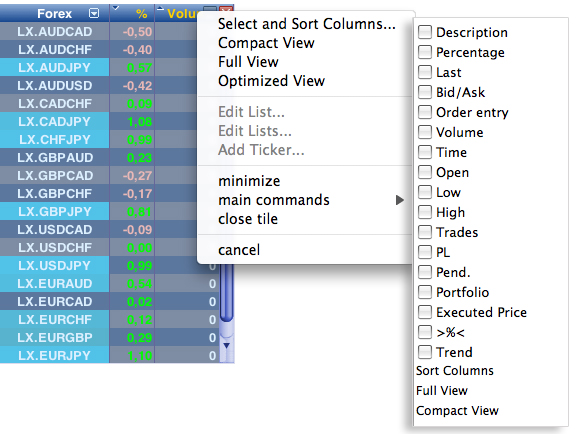 To remove a Security from a list, simply click on the ticker code and confirm pop up window that will appear.